Stories of Hope: Living in Serenity with Chronic Pain and Chronic Illness
Written by members of the Chronic Pain Anonymous Twelve Step fellowship, STORIES OF HOPE presents the tools and principles of the Twelve Steps as catalysts for emotional, mental and spiritual transformation. Each of the courageous men and women who contributed to this collection shares their journey from despair to hope. You will discover, through the truth of their experiences, how it is possible to live in happiness and contentment, one day at a time, regardless of your chronic pain or chronic illness.
Recipe for Recovery: A Guide to the Twelve Steps of Chronic Pain Anonymous
Based in a tradition of spiritual, mental and emotional recovery, this book provides you with Twelve time-tested Steps, used by people throughout the world for leading a satisfying and fulfilling life, regardless of any physical health challenge.
Whether your chronic condition is a result of
accident or surgical procedure
disorders such as arthritis, lupus, MS, fibromyalgia, diabetes,
Crohn's disease
life-threatening illness, such as cancer or heart disease
back pains, headaches or nerve pains
or any other persistent physical illness or pain-related trauma
or disease
… the Steps are a practical recipe and guide for reclaiming a celebration of life.
This book will demonstrate that you are not alone. Recipe for Recovery is filled with dozens of true-life stories—-personal testimonies of other people just like you. Each one speaks to how the principles of Chronic Pain Anonymous literally saved them from self-obsession, fear and depression, opening the menu of their lives to a whole new range of possibilities for happiness, acceptance and service to others.
---
*All items below include postage and handling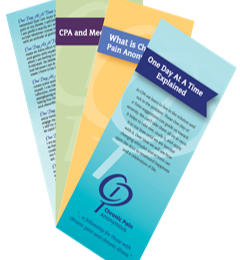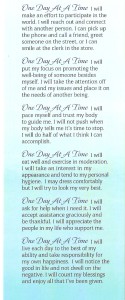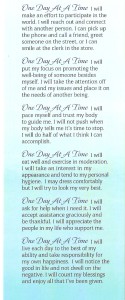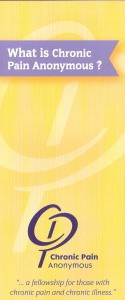 10 Brochures: What is CPA? | $5.25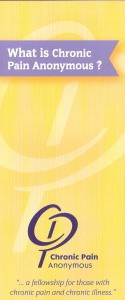 20 Brochures: What is CPA? | $10.25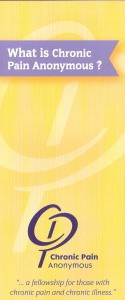 40 Brochures:What is CPA? | $18.75
10 Brochures: CPA and Meditation? | $5.25
20 Brochures: CPA and Meditation? | $10.25
40 Brochures:CPA and Meditation? | $18.75
10 Brochures: One Day at a Time Explained | $5.25
20 Brochures: One Day at a Time Explained | $10.25
40 Brochures: One Day at a Time Explained | $18.75